Introducing
SHIVA
A WordPress Website Template for visionary entrepreneurs.
Easy-to-Customize & Edit using Divi Visual Builder
DIY option OR Full Support
Get your site online now with this beautiful easy-to-edit template!
Use the Included photos & branding or customize it to fit your style!
N

Mobile Friendly

N

easily Customize colors, fonts, etc.

N

Comes with 7 ready-to-use pages (easily add more!)

N

hosting & domain set-up done for you!

N

includes a blog & a sales (landing) page + Email opt-in

N

royalty-free stock images (or use your own!)

N

Drag-and-drop visual builder

N

Uses Divi framework, most popular wp theme

N

Includes 12 easy-to-follow tutorial videos

N

Full support option if you don't want to DIY

N

4 different homepage header layout options

N

library of saved layouts to choose from

N

includes prompts for perfect web copy!

N

SEO (search engine optimization) set-up with Yoast
Your website is the "home" of your brand online!
Stand out, look professional & attract your IDEAL clients!
Option #1: (Mostly) DIY
Step 1: When you purchase the template, you will have access to the library of tutorial videos. Video #1 shows you how to pick and purchase a hosting package and domain (in case you don't already have them. Once you do that, send me your login information.
Step 2: I get the template uploaded to your hosting platform and connect it to your domain.
Step 3: Customize! Using the tutorial videos, you can easily change out colors, fonts, text, and images. Use some or all of the demo photos (royalty free from Unsplash.com) 
Step 4: Launch your website!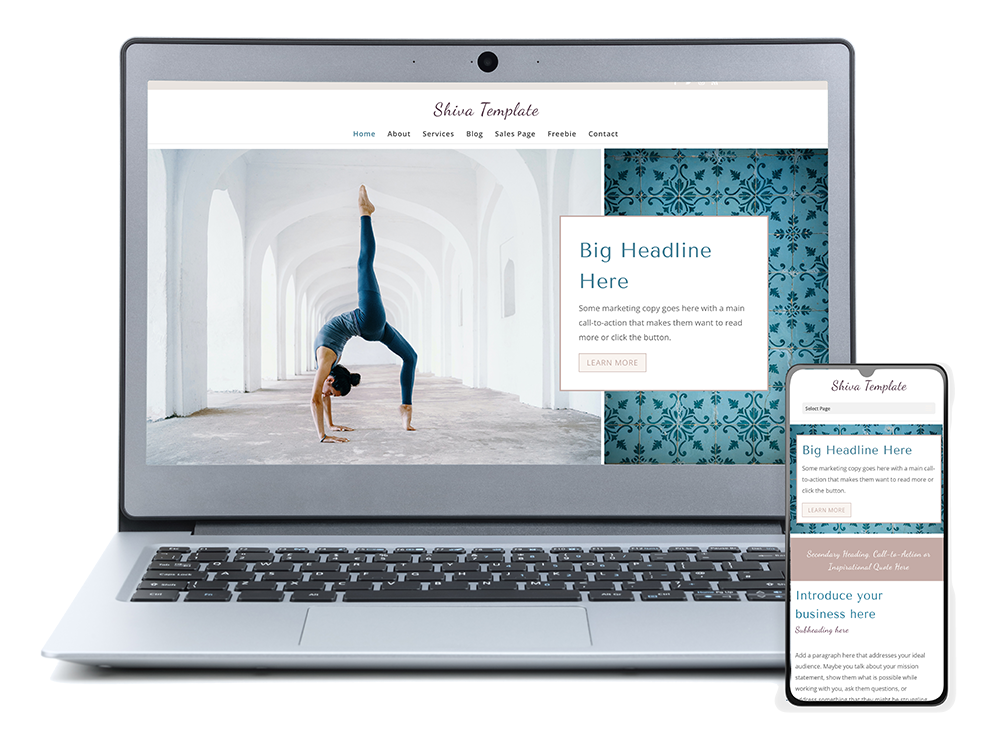 DIY Option Investment:
$495
Includes hosting & domain set-up, all template files & tutorial videos
Option #2: Full Support
Step 1: Once you purchase the full-support website template option, I will reach out to you and we will schedule a Holistic Business Consultation. In this 90-minute zoom call, we'll go over your brand strategy & design, and start pulling together your brand assets for the website (colors, fonts, photos, graphics, copy, etc.)
Step 2: Within a week of receiving your brand assets, I will edit the template for you! 
Step 3: You still have access to all of the tutorial videos, in case you want to make updates or edits in the future. 
Step 4: Launch your website!
Full-Support Option Investment:
Starts at $2500*
Includes hosting & domain set-up, all template files & tutorial videos,
Holistic Business Consultation, Complete website customization
*Websites with more pages, special functionality, etc. may cost more. We will discuss this in our initial "clarity call"
check out these sites built with Shiva:
See how easy it is to change designs and customize sections!
Why Should I Use WordPress?
WordPress is the most widely used and well-supported website platform in the world, powering over 1/3 of the internet! It is an open-source software, so developers and designers are constantly improving it by creating new themes, plugins, and templates. You can grow your WordPress website to include whatever kind of functionality you need, simply by finding the right platform. So if you're considering eventually adding an e-commerce element, a client login portal, or an online course- you can do that with WordPress. Since it is such a popular platform, it is very easy to find support whenever you need it – from free youtube videos, to inexpensive developers & virtual assitants.
What else do I need to purchase?
WordPress itself is free, but you will need to purchase a web hosting plan, as well as a domain (the url /address of your site). I walk you through how to do this in the first tutorial video. Once you purchase it, however, I will complete the set-up for you (uploading the WordPress template files to your hosting platform and making it "live" on your domain), so you don't have to worry about that. The overall cost generally ends up being significantly less expensive than Squarespace, Wix, and other "DIY" platforms. 
Divi is the theme/ framework used to build this site. It is included for free with your purchase (an $89/ year value!). However, if you find that you'd like ongoing support as you grow, edit and customize your site- purchasing your own Divi license is an excellent inexpensive way to get that support. 
How long will it take me to customize my site?
If you are doing the DIY option, you will want to watch all or most of the tutorial videos, which in total run just over 100 minutes. So, in theory, you could have your site customized to your liking in a few hours. However, I know that everyone's level of comfort with web platforms is different, and everyone's learning style/ pace is different, so it will definitely vary. 
If you chose the full-support option, I will generally have your site customized within 7-10 business days after our Holistic Business Consultation call (as long as you provide me with all of the content up front). If you need a rush order, please contact me before you purchase to inquire about my current schedule. 
Do you give refunds?
No, because of the nature of this product I cannot offer refunds. However, if you choose the DIY option and it ends up being frustrating, I can offer you the full-support option for the difference in price (cost of full-support minus the cost of DIY). 
The Shiva Template
DIY or Full-Support WordPress Website
N

7 ready-to-use pages + Easy Instructions to Add More

N

Easy to Edit Blog

N

Includes Sales Page / Landing Page

N

Email Opt-in Setup & Freebie Page

N

Easy-to-Edit Visual Builder (no coding!)

N

Uses Divi: The Most Popular & Well-Supported WP Theme

N

12 Short, Easy-to-Follow Tutorial Videos
Included tutorial videos:
Purchasing Hosting & Domain packages [12:25]
Adding Users & Editing User Roles (if you have employees, contractors, etc.) [4:44]
How to Add & Customize the Included "Coming Soon" page (if you want to hide the website until you're finished customizing it) [5:20]
Theme Customizer Settings: How to edit the fonts, colors, etc. for all of the web copy; changing the header layout & top bar (with social icons); button styling [13:16]
Theme Options Settings: How to change out the logo (in navigation), add your social media links, change blog layout & navigation links [5:10]
How to Swap the Header/ Hero Section of the Homepage for One of the Other Pre-Loaded Layouts [5:13]
Using the Visual Builder to Edit Text & Images [9:14]
Editing the Site-Wide Footer [5:12]
How to Create & Edit Blog Posts [12:34]
How to Create New Pages & Add SEO (search engine optimization) Info [9:36]
How to Connect to Your Email Marketing Platform & Add a Freebie (Lead Magnet) [10:00]
Troubleshooting & Running Updates [9:54]
Copyright Jess Parvin Designs, LLC. All Rights Reserved.