Does your site have an SSL certificate? You will know if this is the case because your domain will have an https prefix (not http). SSL stands for "Secure Sockets Layer" and is the standard security technology for establishing an encrypted link between a web server and a browser. This link ensures that all data passed between the web server and browsers remain private and integral. If you don't have the SSL certificate, a "secure connection" cannot be established, which means that your company information will not be digitally connected to a cryptographic key.

Why is this important? Well, in the past I only suggested SSL certificates to clients who were asking for information from visitors, and especially e-commerce sites that accept payment online. However, this year Google (the Grand Pooba of the internet) announced that they will be "flagging" any sites that are not secure. With Chrome version 62 being released, websites with any kind of text input will need an SSL certificate (but really it makes sense for everyone to have one). You may have noticed that there is a very prominent "Not Secure" message showing up next to some urls. Besides potentially making your visitors nervous, an unsecure warning may also harm your SEO (search engine optimization) because this year Google has also started prioritizing secure sites in their listings.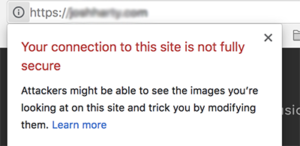 After you install an SSL certificate, you might still see a message in your browser- "This site is not fully secure". When changing from http to https, often other actions need to be taken. Go to WhyNoPadlock.com for a complete list of actions to take to make the site fully secure. Usually, this involves making sure that all of your image urls include the https prefix. You will know that your site is fully secure when you see a green padlock instead of the info icon next to your url.
So where do you get an SSL certificate? The easiest option is through your hosting provider. This will usually cost around $50- $75/ year and some hosting companies will install it for you. I offer hosting to new clients and am now including SSL in my hosting packages. If you have any questions or need help making your site secure, contact me!