Not sure if you should hire a pro or DIY? What the heck is a CMS and which one should I pick? What is the difference between Domains and Hosting?
This is a post that I probably should've written a long time ago. . .But apparently I had to discuss this topic with dozens of people before I realized I should put it in writing!
If you know you need a website, or a new version of your website, but don't know where to start- this is the post for you. I'm going to cover the basics of hosting, domains and content management systems (CMS), along with my recommendations and advice.
What's the difference between WordPress, Wix & Squarespace?
So there are two very important decisions to make upfront, when planning a new website.
1. Am I hiring a professional or doing it myself?
2. What CMS should I use? This is essentially the framework that your site is built upon, and it is going to affect the options you have, decisions you need to make, overall cost, and much more. The most popular options (especially with DIY-ers) are WordPress, Wix & Squarespace.
Like I mentioned in my first blog post "What Makes a Great Website", I feel strongly that if you want your website (aka your virtual store front) to look professional and function really well, you should hire a professional to design & build it. But I totally understand and respect you DIY-ers out there, because I'm one of you! So if you're planning to do it yourself, choosing the CMS that you feel most comfortable with is going to be very important. If you're hiring someone, however, working with the right designer/ developer might be more important than how the site is built. Whether you're doing it yourself or not- there are some very important considerations when choosing a CMS:
Ease of Editing and Capability for Growth
If you're building it yourself, obviously you need to find a CMS that is on-par with your technical ability, or you need to be honest about how much you're willing to learn. Squarespace and Wix have the market cornered on "simplicity" but there is still a pretty steep learning curve for novices, especially those who want a unique site (because straying from their templates is where people get into trouble). Basically, I would say that if you're happy with a very simple design, that precisely follows a template, Squarespace or Wix might be a good option. But I would advise you to consider how your website might grow in the future. If you think you might add e-commerce (shopping cart) functionality, a client login portal, or any other kind of sophisticated functionality, Squarespace & Wix might be very limiting (or expensive).
WordPress, however, is still the most popular platform on the entire web. It is an open-source software (meaning FREE and any programmer can add to it/ improve it) that millions of sites are built with- from basic blogs to very complex corporate sites. It is not a "drag and drop" site builder like Wix, but there are themes and plugins that allow it to be built on the front-end (visually and without code), like Wix. If you chose to work with WordPress, keep in mind that choosing a theme and sticking with it is important- changing your theme down the road can cause a lot of design issues, and you may have to recreate it all from scratch! So if you're DIY-ing it with WordPress, pick a very popular theme that offers customer support and/ or has a plethora of Youtube tutorial videos. My go-to themes are Divi and Enfold. When I design sites for clients, I always use one of these themes because they are very flexible and allow me to create a completely unique look for each site, and then I include tutoring (live or via screenshare videos) so that the client can update/ edit the site themselves.
Cost
Obviously, money is a huge consideration when you're starting a business. Many entrepreneurs have little to no money to invest when they are just getting started, and figure that they'll "fix things" once they start making money. I think this is a flawed strategy, though, because it is so important to put your best foot forward at the inception of your business. You need to look professional from the get-go, so please do not skimp good branding and a functional website. I'm not saying that you can't do it yourself, but be honest about your limitations- whether it's time, design capability, or technical proficiency. Your time is your most valuable resource, and there are a myriad of things to get done when you're starting a business, so always delegate what you can to other professionals.
When choosing the right CMS for you, you'll want to consider short-term and long-term costs. WordPress (.org), like I said before, is free and open-sourced, which is likely why it's the most popular platform on the web. There is also a (confusingly) separate company called WordPress.com, that sells the CMS as more of a subscription. I always recommend the free WordPress.org platform. So technically WP is free, but eventually you will likely end up paying around $60-$250 for a premium theme (like Divi or Enfold) and/ or premium plugins. Plugins are like the building blocks of your site- you can find a plugin to do just about anything you need your site to do, but often they come at a cost of around $30-$300 each. Usually these themes & plugins come with technical support, though, which definitely makes them worthwhile, as there is no free WordPress support.
Wix and Squarespace are monthly or yearly membership platforms. Wix will cost up to $28/month, and Squarespace charges monthly between $16-$46. Then there are also optional add-on apps that you can pay more for.
With any of these CMS platforms, you are going to need to buy a domain and hosting package (discussed below), though with Wix and Squarespace these can be included in your membership for a higher rate.
Other Important Considerations
While functionality, potential for growth, and cost are probably the most important factors in choosing a CMS, there are still other things I should mention.
SEO (search engine optimization) – I won't go into much detail, because I wrote about it in my post "What Makes a Great Website" , but this is just one of the many marketing tools that you will definitely want to consider when choosing a CMS. Here is yet another article that is helpful on this topic: "What's the Best CMS for SEO in 2020" (spoiler alert- WordPress comes out on top).
Email Marketing Compatibility – Marketing is a vast topic, and getting clear on your general marketing plan is important when starting your business. For my web design clients, I always offer to set them up with Mailchimp, so that they can start collecting email addresses and sending email newsletters as soon as possible. There are other options besides Mailchimp, though, so whatever email marketing company you end up with should integrate seamlessly with your CMS (and hopefully not cost a lot extra!).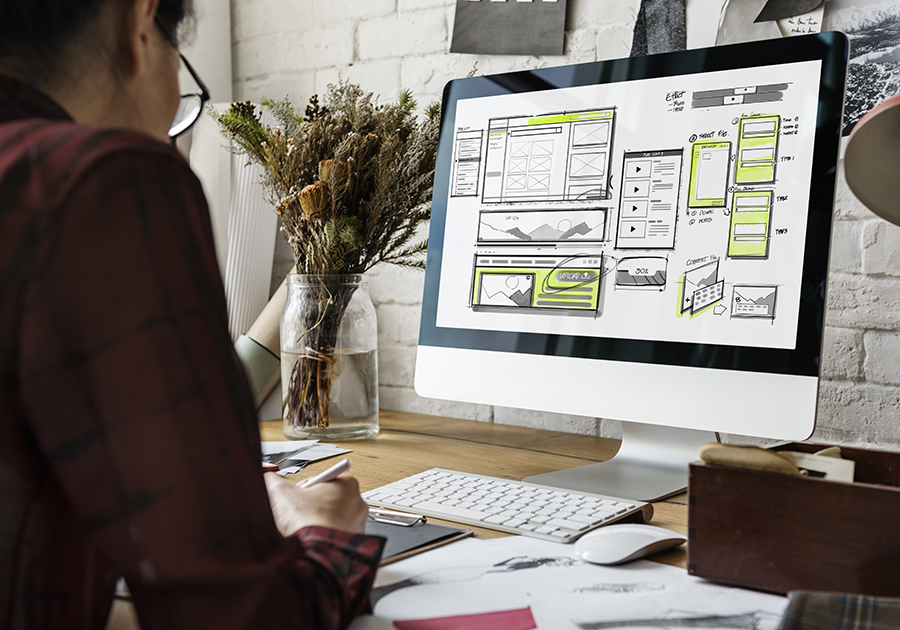 Domains & Hosting
Once you chose the CMS you're site is going to be built with, you'll need to purchase a domain (the address/ url of your website) and hosting package (where your website files are actually going to live). Squarespace and Wix do make this fairly easy, because you can bundle it into your membership- though you will defnitely pay more than if you purchase your domain and hosting separately.
Domains. So you've got a GREAT name for your new business?! Stop right there. If you haven't already, you must check that the domain you want (or a similiar one) is available! Ex: If your new business is named Thrifty Threads and you're hoping for the domain thriftythreads.com, you're very likely out of luck. There are tons of websites where you can search for and purchase domains, a couple of my faves are Namecheap and Google. If you type in your ideal domain, and it's not available, these sites will suggest other similar ones that are available. Remember- It never hurts to purchase more than one domain! They usually only cost $10-$20/ year, so if there are ones you like that are available and you think you might use them at some point, go ahead and snatch them up. You can actually point your website to more than one domain (I don't, however, suggest pointing it to more than 2 domains because that can get confusing for visitors).
Hosting.  The decision of where to have your site hosted is MUCH more important than where you buy your domain. Think of it like this: The domain is the address of your house, but the hosting is where the house is built – location, location, location! So you don't want to skimp here, even though it can be very tempting to just grab a cheap $5/month hosting package. . . From, say, GoDaddy. Please, for the love of all that is sacred, do not host your site with GoDaddy. They are basically the WalMart of website hosting. And don't get me wrong, there's nothing wrong with WalMart, but would you buy your house there? No, because you want it to be well-built, not just cheap. So hosting is going to affect many things, mainly how much space you have, the security of your site, and how fast (or slow) your site is. I have two favorite hosting companies- GreenGeeks (very affordable eco-friendly hosting) and Flywheel (the creme-de-la-creme) of hosting companies (mainly because they have awesome customer service AND all their sites include SSL).
SSL (Secure Socket Layer protocol): When you buy a domain and hosting, you definitely want to make sure you include an SSL certificate. Some hosting packages (like Flywheel) include and SSL certificate, but many don't. In that case, you can add an SSL certificate to your cart when you buy your domain or hosting. It usually costs around $75/ year. For more about SSL and why it is SO important, check out my post: "Is Your Site Secure?"
Interested in what it would look like to work with me on a new website?